Your Telecomm Solutions Provider

A.T.E. can be your office phone system solution provider. We are an authorized reseller for NEC Phone Systems which include the UX5000 & SV8000 series. If you're in need of service or programming changes we can provide the solution for either the NEC Aspire, Aspire S, UX5000 & SV8000 series.
Mobile Extensions
Gives you the ability to use your cell phone or any other external telephone device as a single line extension of your SV8100. Forward your desktop terminal to easily receive calls, transfer incoming calls to other extensions, make intercom calls, access your voice mail, or perform any number of other call-handling communications server features – all from your cell phone or other external device.
Additionally, transferring calls from your cellular phone to your desktop phone is done simply by pushing a single programmed key on your desktop phone.
UNIVERGE SV8000
The UNIVERGE® SV8000 Series Communication Servers from NEC creates new ways of generating revenue and increasing customer responsiveness while simultaneously improving efficiency and reducing costs. This robust, feature-rich solution is completely scalable and can be expanded to meet your communications needs both now and in the future. Designed to be both versatile and scalable for your growing business needs, the SV8100 supports TDM, IP, video, wired or wireless. It also provides three on-board applications and a full range of high-powered features that can be transparently shared between branches or remote locations. Individuals, departments and locations can work more efficiently by using this feature to communicate seamlessly in real time.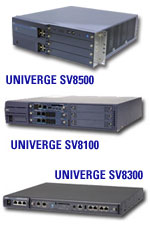 NEW UNIVERGE 360
Messaging
Advanced unified messaging solutions offer productivity-enhancing tools that provide your employees with the ability to access and manage all of their messages from one inbox and from any location. Voicemail, email and faxes can all be directed into one inbox to enable employees to easily prioritize and keep track of messages.
Additional Information
Please contact Advanced Tech for any additional information or questions you may have. Below are a few links for further UNIVERGE Demo's.
Desktop Terminals
NEC's UNIVERGE Desktop IP Terminals provide all the features and functionality of traditional phones with the seamless integration of advanced IP applications. Integration of voice and data is no longer limited to the network of the PC desktop; it is now in the end-users' hands, providing role-enabled communications as part of NEC's UNIVERGE360 approach. UNIVERGE Desktop IP Terminals are ergonomically designed for natural comfort and facilitate use through an array of menu-driven soft key functions and easy-access function keys. Together, these aspects of the terminal deliver power, versatility and programmability to all user stations, maximizing efficiency and productivity. Because the entire desktop surface is crafted for user productivity and fosters better speed, service and performance, the UNIVERGE Desktop IP Terminal can help your business reach more profitable heights.